Success Driving Greater Achievements
William Durant said, "We are what we repeatedly do. Excellence, then, is not an act, but a habit."
His famous statement, with ties to Aristotle's thoughts, is often simplified and quoted as, "success breeds success," by many a leader, coach or motivational speaker.
And it can be motivating. At least, that's our goal at Cultivate. We don't strive to check a box or walk away at the end of a task. No, we to use it as a launchpad for the next task. And that launch gets an added boost when it is adorned with accolades.
We don't set out for average – whether that's in our connection with clients, planning and strategy of jobs, the creative, storytelling, brand development – we're not shooting for average. We're constantly trying to meet expectations while simultaneously raising the bar a little higher each project. It's a constant commitment and dedication of the entire team.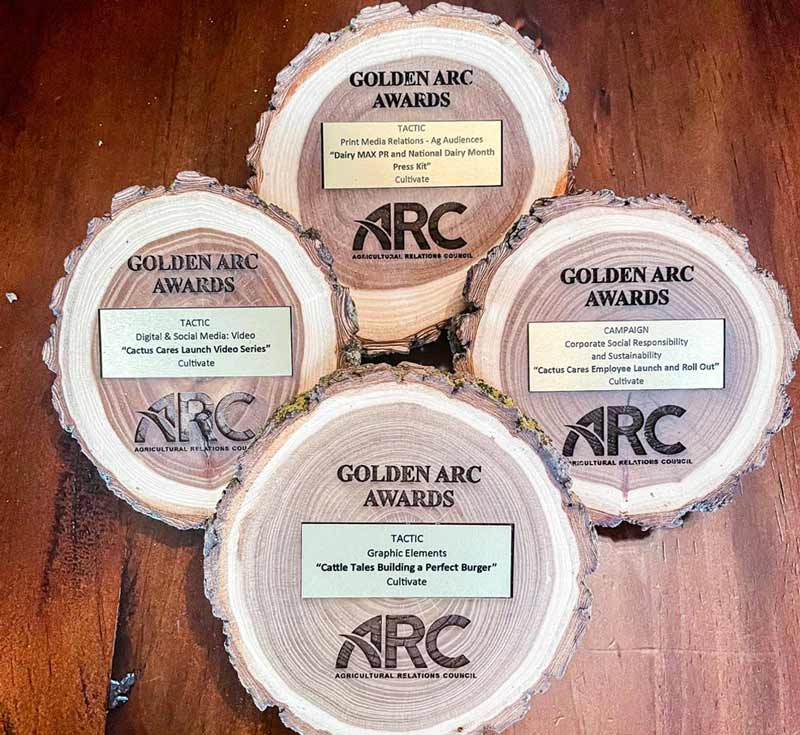 Each year, we submit our "best of" to turn in for competition and professional critiques amongst our peers in agricultural communications, public relations and marketing, for the Livestock Publications Council (LPC), National Agri-Marketing Association (NAMA) and Ag-Relations Council (ARC).
The process of selecting work is a process of itself. The first step is to review all projects for the previous year. It's tedious. It's also rewarding to be reminded of all we accomplish in a year. Then it's reviewed to make sure it meets the criteria/category of the specified contest, and can we complete the entry in a way that best showcases the project. Next, entries are prepared. For several contests this requires additional layout and design/mockups, providing write ups and detailed descriptions of the project from start to finish. Finally, we submit our entries and then wait…
Each organization typically holds the awards ceremony in conjunction with their national conferences. For NAMA, entries first compete regionally and then earn the opportunity to compete nationally.
2021 was a banner year for Cultivate. And as much as we use success to fuel future success, it's also important to take a minute and be proud of what you have accomplished. Especially, when you earn honors never before earned.
NAMA Awards
Region II Best of NAMA Merit Award – Public Affairs/Issue Management Program: Cactus Cares Employee Rollout Kit and Program Launch 
Region II Best of NAMA Merit Award – Company Publications, Annual Reports: Cattle Tales 2020 Calendar for Micro Technologies and Elanco
Best of NAMA National Merit Award – Company Publications, Annual Reports: Cattle Tales 2020 Calendar for Micro Technologies and Elanco
(this is Cultivate's first national Best of NAMA)
LPC Awards
Livestock Publications Council General Excellence – Newsletter: Dairy MAX Newsletter
First Place, LPC Brochures Flyers, Direct Mail: Cattle Tales 2020 Calendar for Micro Technologies and Elanco
Honorable Mention, LPC Brochures, Flyers and Direct Mail: Cactus Family Farms Grower Toolkit
First Place, LPC Miscellaneous Design: Dairy MAX Recipe Book
First Place, LPC Breeder Website: 1Eleven Cattle Company
First Place, LPC Livestock-Affiliated Website: 111 Beef Republic
Second Place, LPC Digital Marketing Campaign: Cattle Tales 2020 Social Media
Honorable Mention, LPC Digital Marketing Campaign: Micro Technologies
Golden Arc Awards
First Place, Golden ARC Print Media Relations – Ag Audiences: Dairy MAX PR and National Dairy Month Press Kit
First Place, Golden ARC Graphic Element: Cattle Tales Building a Perfect Burger Social Media Graphic
First Place, Golden ARC Digital & Social Media Video: Cactus Cares Launch Video Series
First Place, Golden ARC Corporate Social Responsibility and Sustainability: Cactus Cares Employee Launch and Roll Out
None of these accolades would be possible without our client partners. It is their trust in our process, visions and creative that allows us to do our best. We're not just here for our own benefit, the projects we enter are actual campaigns and projects which impact our clients' goals. Their success is our success, but it feels really good when your fellow peers, who understand agriculture, the audience and the businesses which serve agriculture also recognize good work.
Because we don't complete projects for awards, we give our best to each client ask. Thank you for trusting us to help create and share your stories.